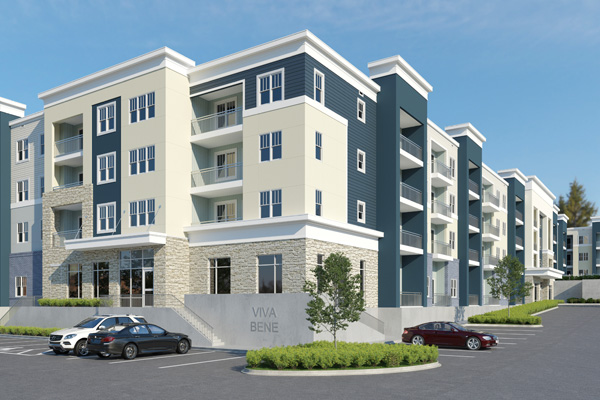 Avenue Partners with Sevi Health to Deliver New Model of Integrated Living
Senior housing developer Avenue Development announces that new Viva Bene active adult community brand has partnered with national primary care provider, Sevi Health. The partnership combines Viva Bene's vision of delivering holistic community-first wellness amenities with Sevi Health's mission to simplify primary care for residents by helping seniors navigate a complicated healthcare ecosystem.

"Sevi Health's leadership shares Viva Bene's goals of transforming the senior living model beyond needs-based communities and will create environments that integrate socialization with preventative care coordination," Laurie Schultz, Co-founder of Viva Bene said. "We believe this collaborative partnership is part of the large puzzle to meet demand for middle market senior living, and Sevi Health's offerings can be utilized throughout the care continuum."

This first-of-a-kind partnership in active adult focuses on managing chronic conditions and delivering better health outcomes to ultimately allow residents to age in place. Sevi Health is currently insurance agnostic and residents are not required to shift their primary care provider to participate in the community benefits. It is a care coordination model to augment residents' existing provider relationships.

"A major part of our mission to simplify primary care is to help residents and patients navigate an increasingly complex healthcare system," Piyush Gupta, MD at Sevi Health said. "Creating an integrated care coordination solution for residents of Viva Bene helps us directly address that problem."

Access to Sevi Health and wellness programming is included in resident rent, and services with Sevi Health are billed directly to a resident's existing insurance.

For owners and operators, care coordination, led by Sevi Health, aims to reduce operating costs and open up a differentiated marketing benefit by delivering a new integrated care wrap and primary care model.

Viva Bene also announces its first community development broke ground in January in St. Peters, MO, a western suburb of St. Louis. The development features a 195,000 square foot active adult campus including 161 fully appointed apartments with amenities that match the Viva Bene mission such as a wellness hub with a fitness center, yoga/meditation room, multi-use room for seminars and wellness education and cooking demonstrations, dedicated space for Sevi Health, outdoor spaces and more.

The mission of Viva Bene is rooted in the origination of value-based care, to improve health outcomes and reduce healthcare costs for residents by seamlessly integrating improved health and wellness into residents' daily living. Now, residents aged 55 and better will be able to enjoy the social amenities of a residential community with healthcare partners and care coordination services focused on person-centered wellness, making it accessible for Viva Bene residents to Live the Good Life within the comforts of their home for many years to come.